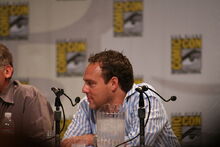 Bryan Burk (born 30 December 1968) is an American television producer.
A graduate of USC's School of Cinema-Television, Bryan Burk began his career working with producers Brad Weston at Columbia Pictures, Ned Tanen at Sony Pictures and John Davis at Fox. In 1995, he joined Gerber pictures, where he developed TNT's Emmy-nominated "James Dean," and is currently attached to produce "NFL: A Love Story."
He has collaborated with J. J. Abrams and produced several of his TV shows such as Alias, Six Degrees, What About Brian and Lost. He, along with J.J. Abrams, also produced the 2008 film Cloverfield, and the two co-produced the 2009 film Star Trek.